One of our clients' most frequently asked questions is how much damage occurs to their home during transport. Of course, this is a pretty valid concern, and our broad-brush answer usually is to say that we design our relocatable homes to put up with the bumps and scrapes that come with transporting across QLD and NSW. You could say that a modular home has to withstand a small earthquake and cyclone before they even arrive on site.
So, with this in mind, we thought we'd dig into what goes into a modular home to ensure a modular home stands up to the rigours of transport. Let's look at the type of damage that does occur and what we do to minimise this. Read on to find out more!
Base
The first step of ensuring a quality modular home delivery is to get the base right. For a modular home, this means your bearers and joists. At Westbuilt we use a large Universal Beam, usually between 250mm and 300mm deep as the backbone of your home. These large "I" type beams are overdesigned for your home, in fact, technically, we could cantilever your home over 4m using these beams. Over the top of these large joists, we weld 100x50 floor joists which form a flexible but structurally sound "chassis" for the home. Our tried and trusted chassis forms the critical backbone of every Westbuilt modular home.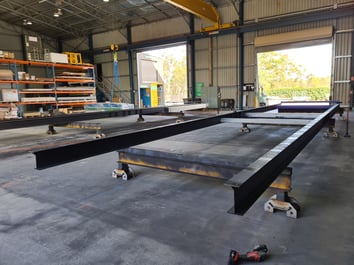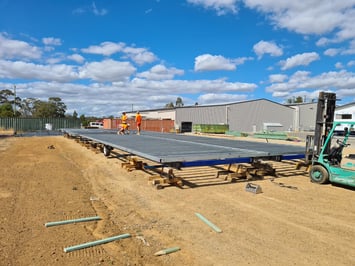 Frame
Moving on, let's look at the wall frame. The timber frame forms the home's main structure and incorporates the main wind bracing of the house. This structure will take most of the brunt of the wind force, stretching and flexing. Combating this potentially destructive force are two "key" framing elements;
Around the perimeter of every module, our team will install a 4.5mm hardwood ply sheath. This strengthening sheath is fully nailed to every stud and top plate plus glued to the lintels. To provide additional bracing and tied down strength, we also decrease the timber stud centres to help ensure the home stays rigid, square, and structurally sound during transport and manoeuvring onsite.
The second trick to ensuring a successful modular home delivery is the use of timber wall frames. Timber is a great building material and allows a lot of flex and movement over against steel which can tend to buckle or twist under pressure. Using timber framing ensures that stress induced by manoeuvring and bumpy roads is more evenly spread over the home, meaning that there is less likelihood of plasterboard damage or significant structural damage.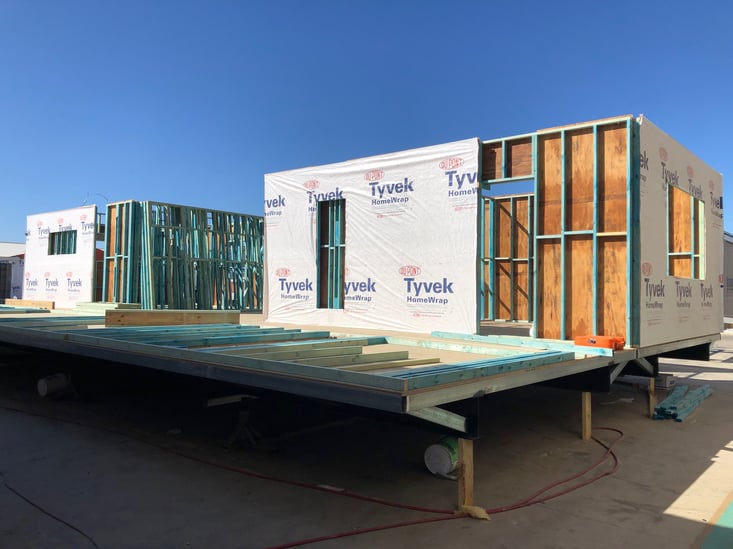 Plaster
Now, having covered our critical structural elements, let's move inside to the finishes and fixings. The most common and obvious damage incurred during transportation of a modular home is in the plasterboard. To help internal lining damage our plastering team screw and glue every sheet to the stud frames. The team then install Painted PVC joiner strips above and below crucial pressure points such as above and below windows and external doors to ensure the plasterboard has room to flex and any stress is relieved without a crack forming.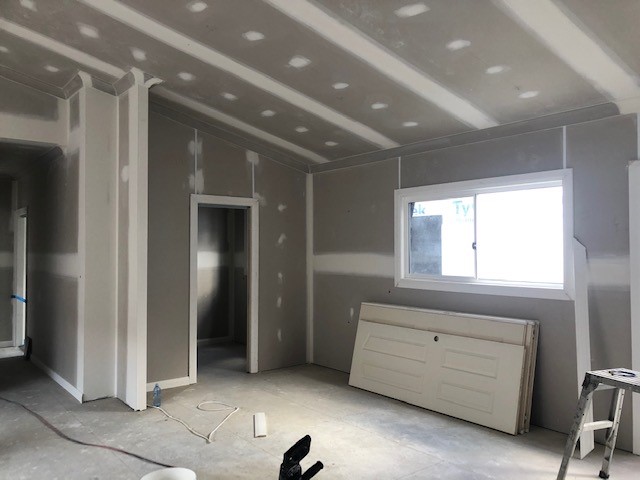 Tiling
Finally, cracked or damaged wall tiles around pressure points is a frequent issue that our clients see. Commonly seen damage points are at the pressure points near windows and doors.
Our tiling team use a specialised glue that creates a flexible bond that dampens vibration to prevent tile damage. Once your home installation is complete, our tilers will grout the pressure points and any large floor areas. This ensures your tiles have enough room to flex without cracking or popping.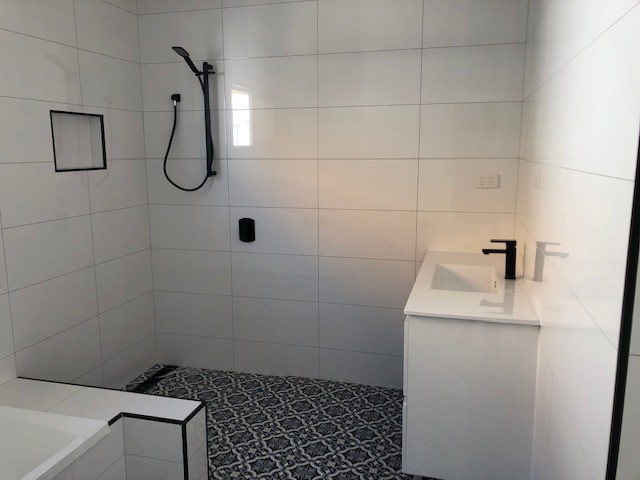 The Trailer
And a little anecdote, the final critical factor in ensuring your home travels damage-free to your site is the trailer used to transport them. Our transport contractor uses Drake trailers – these all ride on airbag suspension, removing as many large jolts and bumps as possible.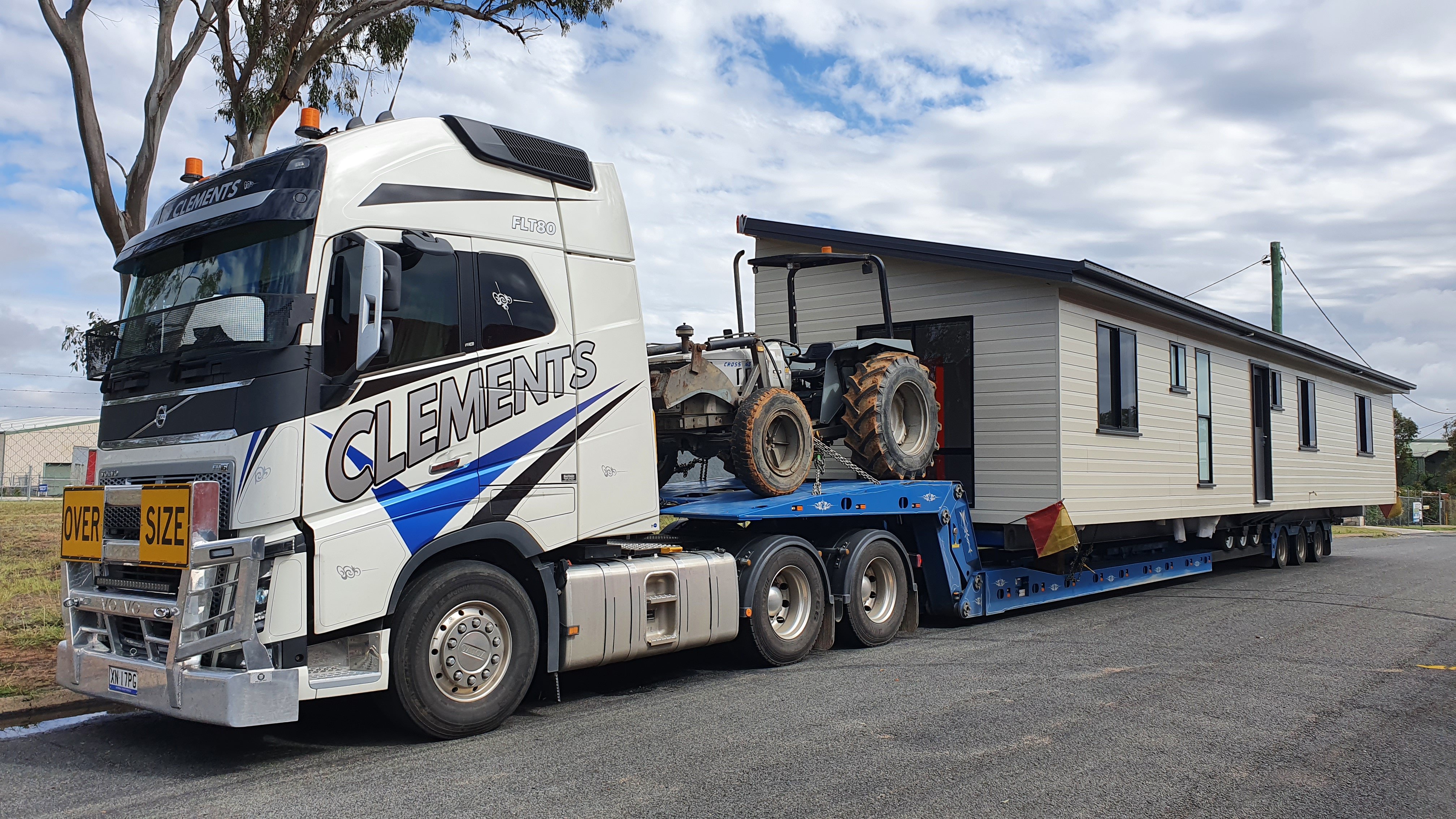 Conclusion
Another unmentioned factor is the distance and road condition of the route to your site. Generally speaking, the closer to the area we are and the less dirt road we have to use, the better your home will travel. Many of our clients are in remote and rugged areas, and our relocatable homes regularly travel 1000's of kilometres to our client's sites with minimal damage.
We hope this post provides you with a little insight into how we minimise damage to a relocatable home. As mentioned, we don't always get this perfect, and we can't prevent every crack from appearing during transport. However, these key features do minimise and mostly avoid significant damage to your home.