Looking for kitchen design inspiration for your new home? Don't know where to start? Alternatively, are you just interested in what's possible with kitchens in modular homes? Then browse through these photos of three inspiring kitchens we've completed for our clients over the last three years. From the modern minimalist style to the warm country kitchen, there is something for everyone.
While you browse through these photos, bear in mind that the kitchens are all totally custom designed and built. At Westbuilt, we create your kitchen in collaboration with yourselves, our in-house design team and the cabinet maker.
So, read on to view some beautiful modular home kitchen ideas.
CLASSY & CONTEMPORARY MINIMALISM. A MODERN KITCHEN BY WESTBUILT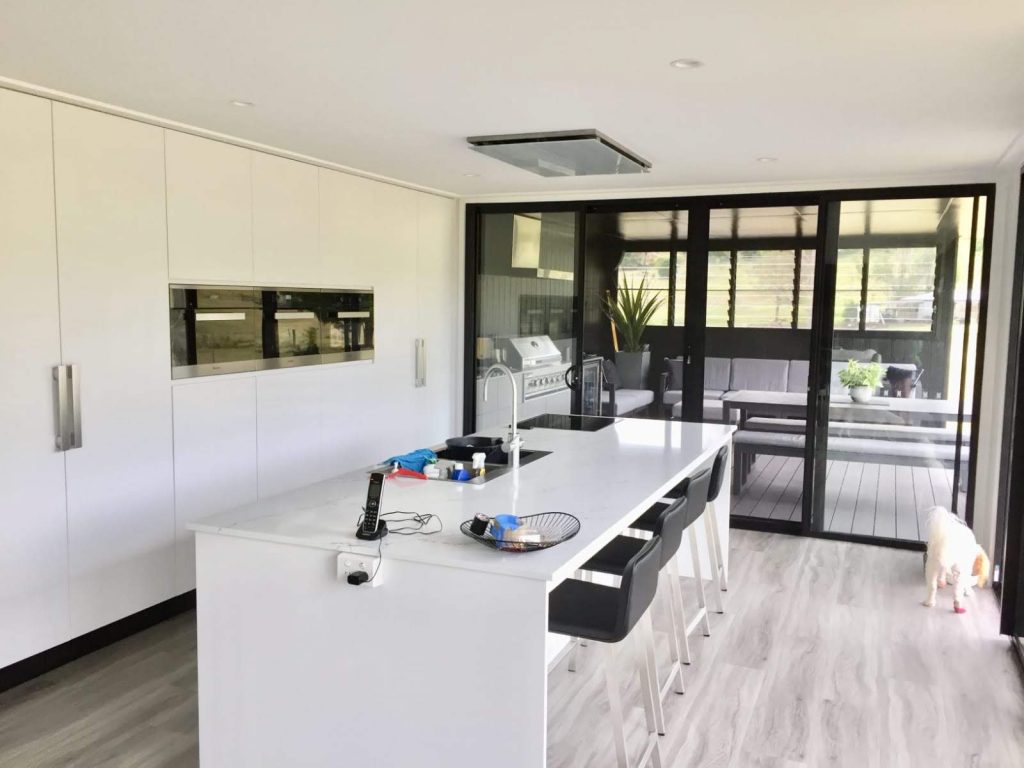 This galley style kitchen features a minimalist approach to cabinetry. With full floor to ceiling height cupboards, push open cupboard doors and integrated appliances, this kitchen space is something special.
INTEGRATED APPLIANCES. BY MIELE

The clients have chosen top of the range Miele appliances with separate conventional and steam ovens, in-built microwave, induction cooktop, built-in fridge/freezer combo and an integrated dishwasher. And, to finish this classy kitchen off a Franke stainless steel sink with a Zip chilled/boiling mixer tap has been supplied.
WHITE TO BLACK CONTRAST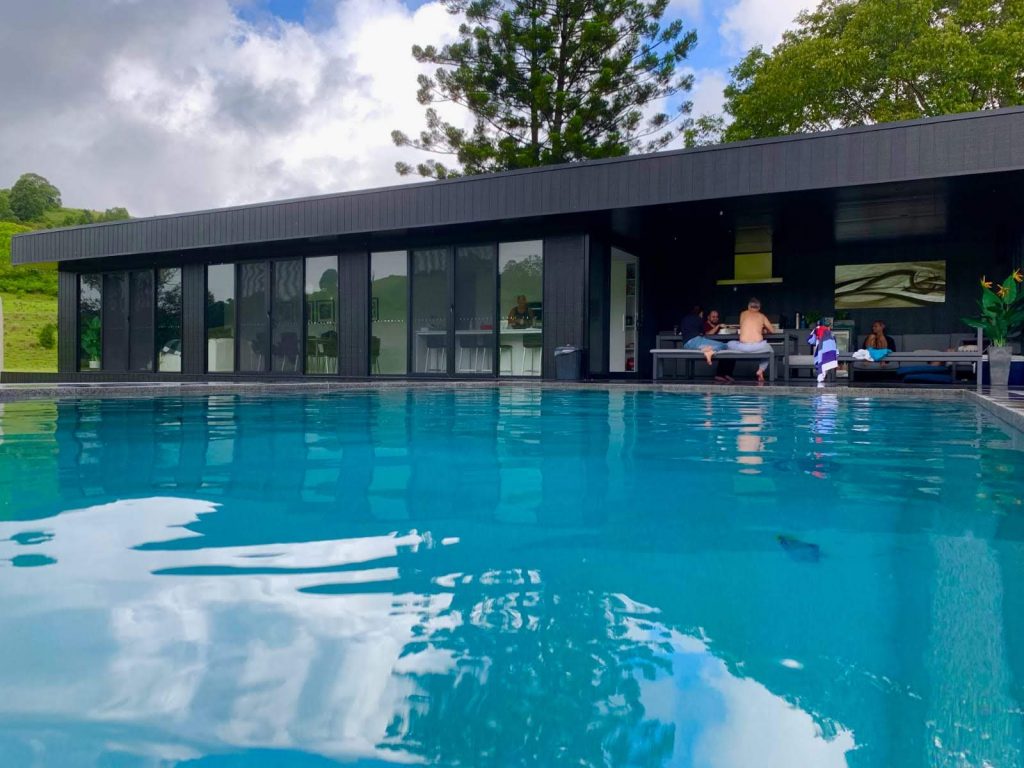 The clients have really focussed on creating a real contrast with their kitchen. With all the cupboards finished in Laminex Polar White gloss and a white EssaStone benchtop on the island bench the kitchen really pops out. To really make the kitchen pop out the exterior and window frames are all black. This creates a dramatic contrast with the all-white interior.
Galley Style & Sit-up Island Bench
If you're looking to create a more galley style kitchen, this is an excellent example of how this works. The full wall of cupboards on the rear wall also means that there is no splashback required. The large island bench doubles as the workspace and even a meal table or conversation piece! We think this kitchen is really functional and if your looking to create a
functional kitchen in a tight space a galley style kitchen is definitely worth
considering!
2-PAC & STOME. A TIMELESS COMBINATION.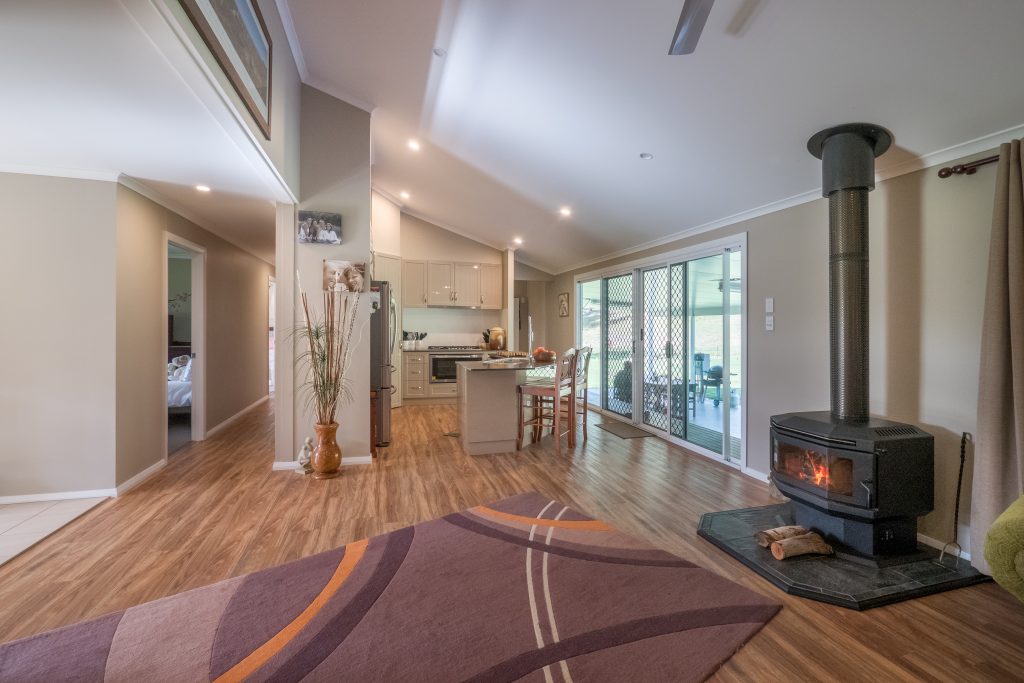 If you're looking to create a kitchen which won't date and still look spectacular after years of use, then you can't really go past the engineered stone tops of CaeserStone and 2-Pac routed doors.
The clients have designed this kitchen so they could take advantage of the view of the outdoor area along with the spacious living area. This has created a beautiful warm family living space and created a lovely open plan
kitchen with a walk-in corner pantry and island bench.
RAKED CEILINGS & OVERHEAD CUPBOARD BULKHEADS. NEATEN UP YOUR KITCHEN.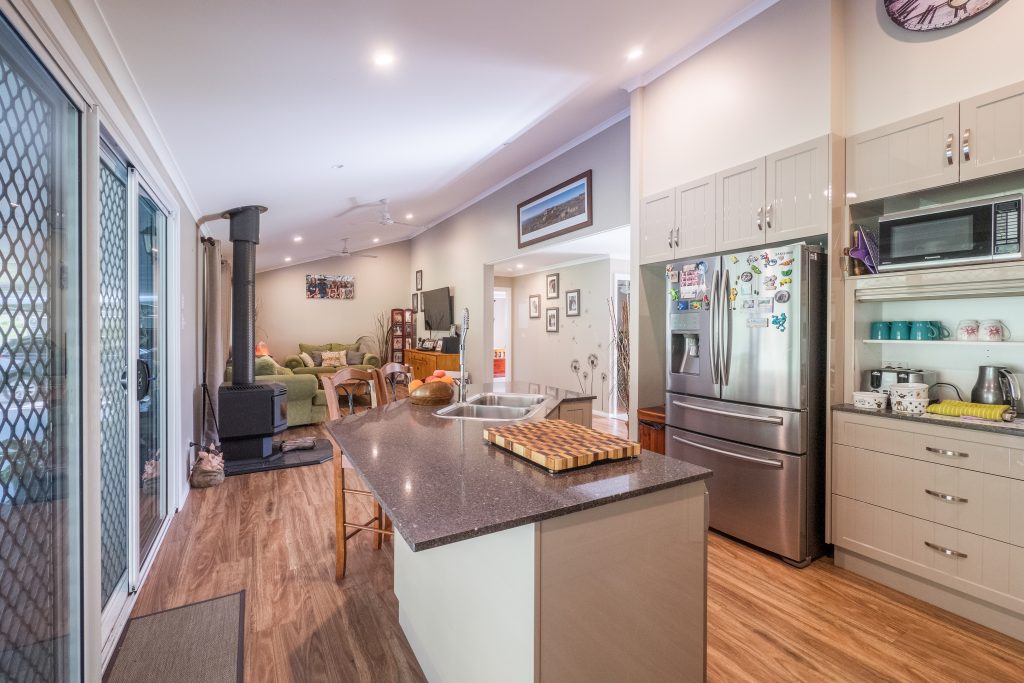 Notice the raked (or cathedral) style ceilings in this home. If you're looking to create a sense of openness and space, consider putting this in your new home.
To combat the dust and grime that will invariably settle on top of your cupboards we've installed overhead cupboard bulkheads over this.
(Sometimes call plinths.) This excellent finishing feature removes the open
space over the cabinets give the kitchen a neat and tidy finish.
WIDE APPLIANCES. LET THE COOK SHINE!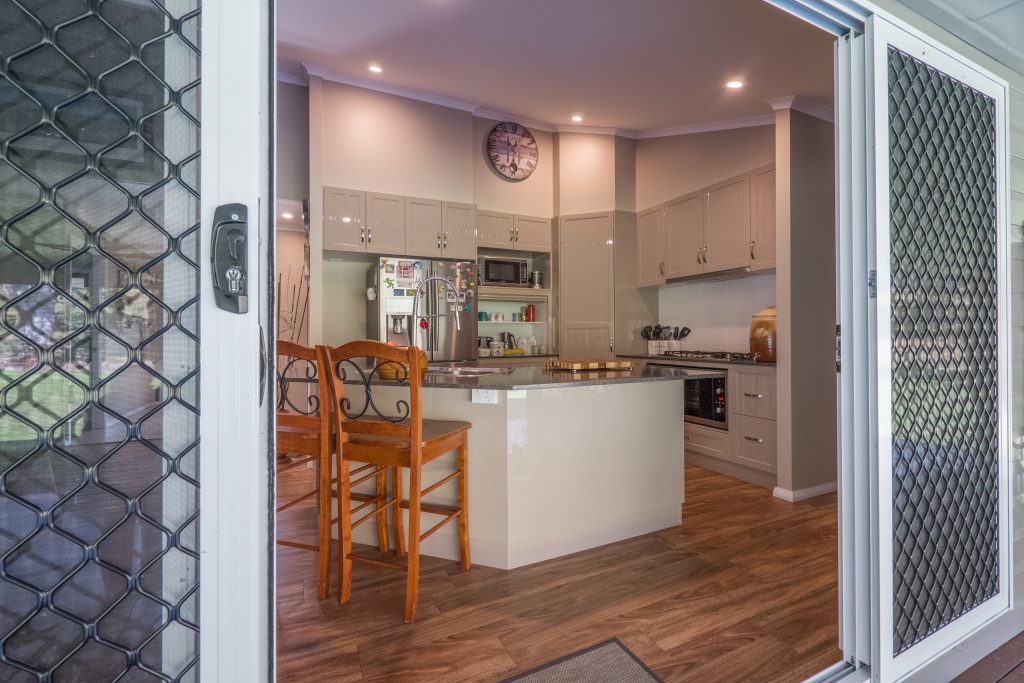 900mm full-width oven and stove are another consideration when looking at your kitchen design. If you're into roasting or a lot of cooking installing 900mm full ovens and cooktops is a must. This kitchen features an excellent quality 900mm full width under bench oven, cooktop and pull-out range hood.
SOLID TIMBER - CREATED A KITCHEN MASTERPIECE.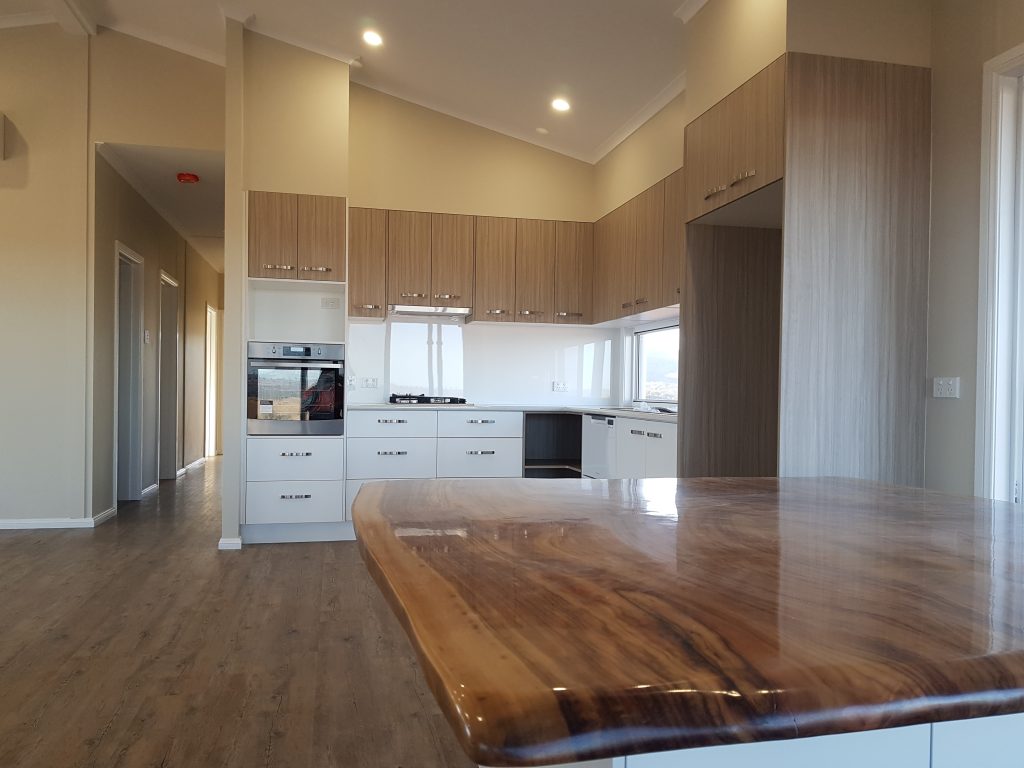 The clients requested we incorporate their solid timber benchtop on the island of their new kitchen. Cut from old logs on their spectacular Granite Belt property the island doubles as the family table with a built-in bench seat to one side.
TIMBER STANDOUT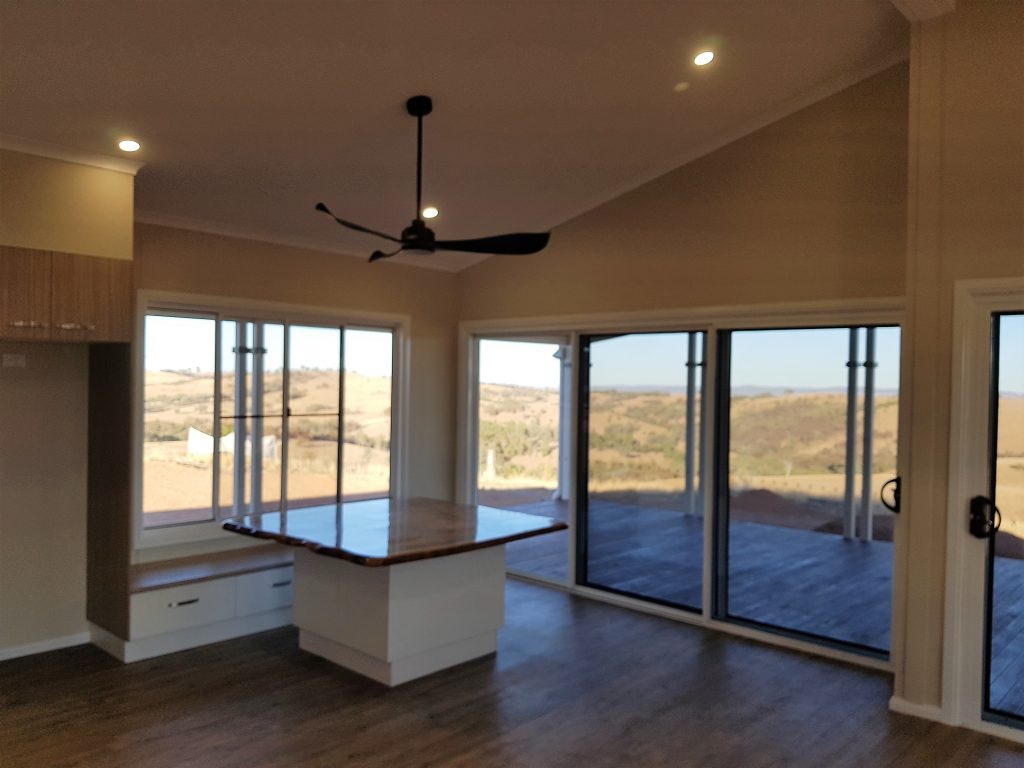 The contrast of the neutral draws and lower cupboards against the Laminex timber grain overhead cabinets creates a refreshing contrast and ties in the polished timber bench on the island.
GLASS SPLASH - MINIMALIST & EASY.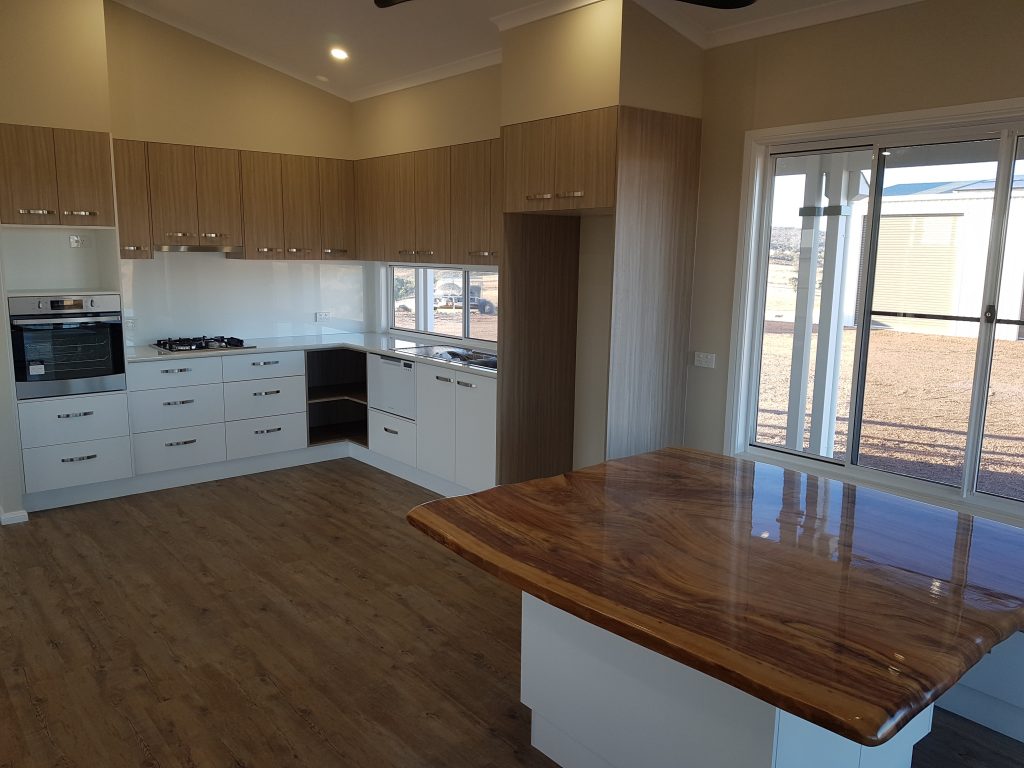 The glass splashback on this kitchen helps to build that contrast connection – making the timber stand out. Plus, you get the benefit of
an easy to clean splash back surface and no messy grout lines. Also, please note that while this client has chosen a neutral splash, you can do anything you like with a glass splashback.
ISLAND BENCH | KITCHEN TABLE | FUNCTIONALITY PLUS!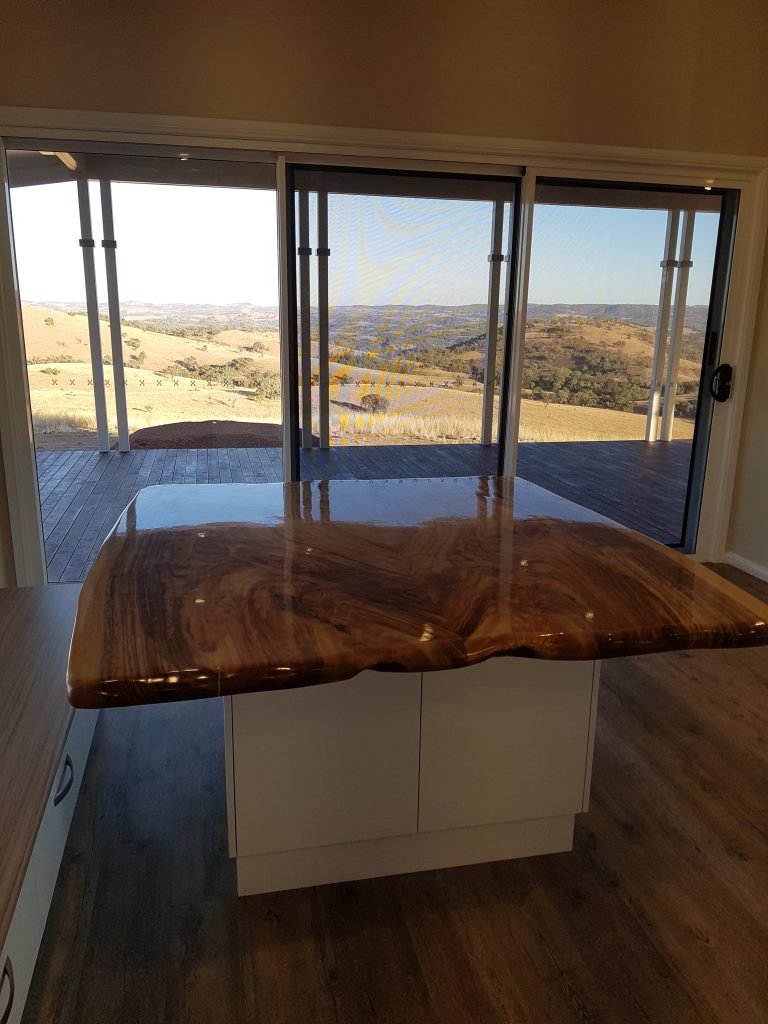 The island bench in this kitchen doubles as the kitchen table. With built-in cabinetry bench seats as well, the table is functional and useful. If your tight on space in your new home, we'd recommend you consider the option of a movable island bench with built-in bench seating!
CUSTOM DESIGNING YOUR NEW KITCHEN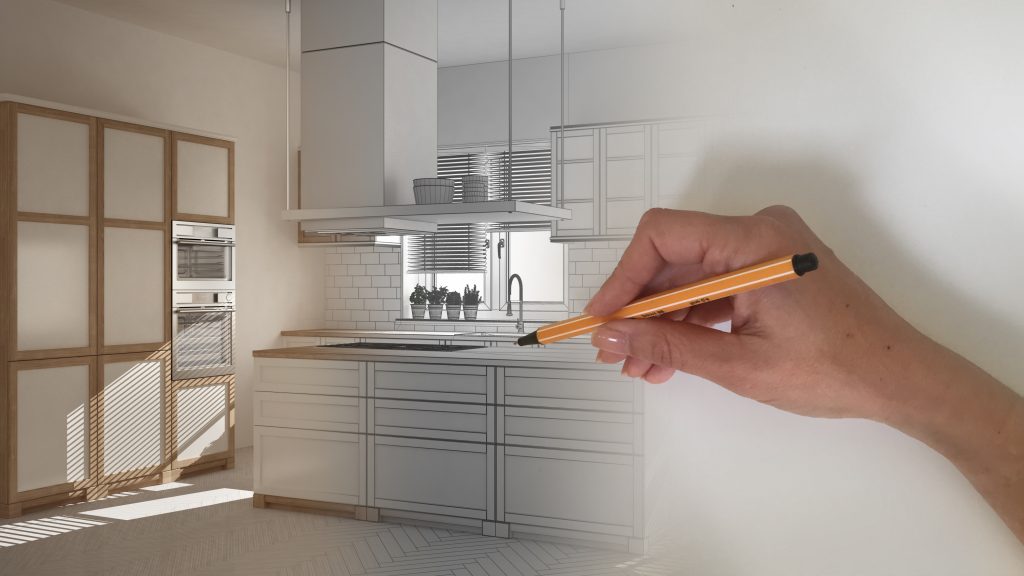 We get that designing the Kitchen for your new home is incredibly important. Your kitchen is the most functional and well-used space in a new home so designing it right is essential.
Getting your kitchen just right is not easy - especially if your just trying to do it on your own. We've found that the easiest, and most satisfying, way of ensuring our client's kitchen is just right is by ensuring the following three teams are actively involved in creating your kitchen;
You - we need to know what you like, what is important to you.
The Westbuilt In-house design team - we'll do the day to day designing and changes. The team will provide inspiration and advice to you on what will and won't work.
The cabinet maker is involved in ensuring that the kitchen can be built and providing additional design advice and inspiration.
So by collaborating with these three critical teams, you can ensure your kitchen space is well designed. Find out more about custom designing modular homes here.