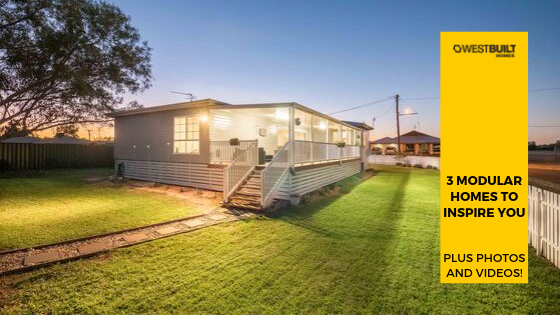 Take a look at these three modular homes galleries, along with videos from the clients, explaining the Westbuilt process.
Each of these homes, while based on some of our standard plans, are all totally and completely unique. Each client chopped, changed and modified their design and inclusions to ensure they got exactly what they required.
So, scroll on and check out the galleries and videos plus some helpful links. Enjoy! :)
KEILVALE MODULAR HOME - A SPECTACULAR VIEW ON A SLOPING SITE
This three-bedroom home was installed on a challenging site at Keilvale NSW back in 2017. The clients choose Westbuilt to provide them with a completed turnkey package including the carport and driveways and onsite connections.
Also included are polished hardwood floors and a large entertainment deck overlooking the glorious views of Northern NSW!
A MODULAR HIGHLAND HOMESTEAD ON THE BEAUTIFUL NEW ENGLAND
Imagine waking to a roaring fire for your morning coffee on a frigid -10c Glen Innes morning. Well, these clients choose to do this every winter in a Westbuilt home.
With four large bedrooms plus an open plan living area, this home blends in perfectly to the rural New England scenery. Anyway, enough said - scroll on and check out the videos and photos of this one!
AT HOME IN THE OUTBACK. A UNIQUE, CUSTOM-DESIGNED HOME.
Located in the outback town of Roma QLD, our clientz used the existing Fitzroy 1 design, heavily edited it and made it perfect for them. Because, after all, that is what's important. As one of the largest investment most people make, it is critical that your new home is well designed - for you!
Check out some of our other 4 bedroom designs by clicking the button below. As we say, the only plan we're interested in building is yours. You can chop, change modify any of the designs or come up with a whole new design if you want!
WANT SOME MORE INSPIRATION?
Check out another 4 x spectacular modular homes by Westbuilt here. You can also view our photo gallery by clicking on the button below.